Canfield High School 2013 was another amazing show with over 200
vendor
s
that customers had to choose from. There was something there for everyone from handmade soaps, jewelry, home decor,baked goodies to Whimsical Christmas Decor! There was also a Chinese auction, The cafeteria ran smoothly handling all the customers that flooded in, Congrats to all the workers that kept the lines moving and to the students that volunteered in keeping their school clean and helping the vendors when they wanted a bite to eat or just had to stretch!!! You were all awesome!!!
This years show was held on Saturday December 7th from 10am 4pm. At Canfield High School 100 Cardinal Dr. Canfield, OH 44406. The admission was free and the parking was free! Also there was free shuttle service from overflow parking lots!
It was great to have my family and husband with me as we walked through this huge school with halls that seemed to go on forever, My Grand Mom God Bless her 92 years young was very energetic buzzing around looking for baked goodies to take home that she could freeze for Christmas!
I also had a agenda to see if I could find fellow Etsians and sure enough I found some! Until today I never had the pleasure to meet, talk or even know any of these creative talented women but felt very fortunate that I had run into them!!! It was very nice to talk to people about their passions in the mediums that they use in person!!
It was also neat to talk to fellow
craft artis
ans who use the Etsy site as one of their means to show their wares! I knew that the people that I come in contact with on Etsy, either as my customer or as fellow team mates, have always been kind and helpful, But to actually meet a fellow Etsian in person was a very memorable experience! They are just as sweet in person as they are online!
Each person that I talked to opened up to me about their passions of what they create! I would like to share with you some of the wonderful people that I met and share with you their wonderful Etsy shops. If you are not as fortunate to see their products in person surf on over and see their online stores!
Lauren
My motto and goal is to strive to make one of a kind pieces for those who are one of a kind. In the jewelry business however, there usually isn't a beaded design that hasn't already been done or a technique that nobody else knows about. That being said my creativity and individuality comes from the designing of those techniques and my color schemes. Color combos and coordination are my strongest points
I've had a total of 9 individual items published in a variety of beading magazines throughout the last few years that include Bead Trends, Stringing Magazine and Jewelry Affaire.
www.etsy.com/shop/lpsjewelry
Cynthia
All things colorful!
I so love to make art for people...it is an expression of me and a way to help support my family. I have two daughters, one of whom has Autism and this is my way to financially help my family. I enjoy stained glass work as well as rug making, purse making, jewelry, polymer clay and quilting.
Jennifer
Let your skin be Happy with Nature
My son's skin allergies inspired me to start making all natural soaps & lotions.. Eliminating the dyes, detergents & preservatives normally found in such products,(which are actually the culprits that flare up allergies & aggravate your skin, making it dry & itchy). Again, eliminating these improved his skin in such a dramatic way (healing & curing his eczema) that it inspired me to start my own business & help others improve their skin...All my products are for all skin types, all ages, & even the most sensitive of skin...
Linda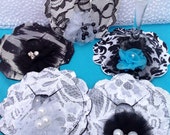 I have loved fabrics and art making since my teen years. I love designing unique items for my family, friends and customers. My professional experience of 30 years as an artist and art educator has enhanced personal techniques and production quality. The names of the different designs in the Bridal Line are named after my granddaughter, daughters and one day to be, daughter -in- law.
I hope that you enjoy my stories about my craft show adventures!!!
See our Craft Show Spectacular Mini Series Here:
PRESENTED TO YOU BY OUR LEADER:
| | |
| --- | --- |
| | Tip toe thru my garden you will be delighted on the sights of the beautiful sugar creations that will be popping up in the garden, from beautiful flowers to whimsical keepsakes! These creations are handmade,and used on your special cakes and other baked goodies! |