For today's 25 Days Of Christmas, we will meet Adriana from
MotuProprio
. Despite being small, her shop is very chic and offers statement necklaces, bib necklaces, hair barrettes, chokers, pendants.
I love her choice of colours either it is about warm colours (green, yellow, orange) or cold (shades of blue). Her creations also remind us of nature - sea, leaves, earth colours - and add a nice touch to any look. Please read on to find out more :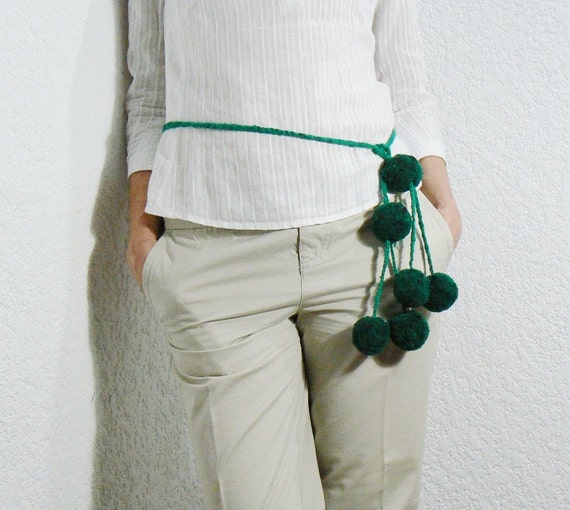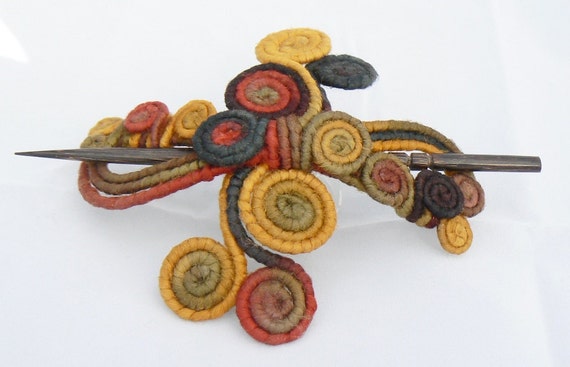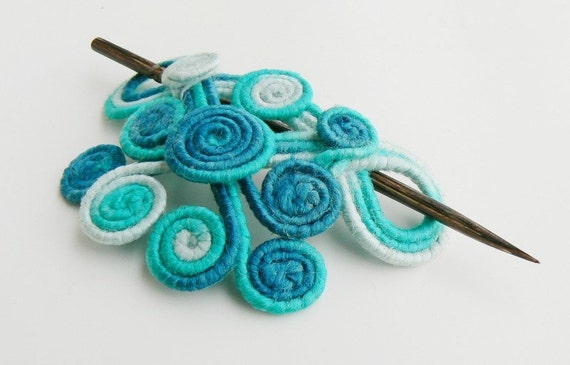 1. Please, share a little something about yourself.
My name is Adriana Preloran, I am from Buenos Aires, Argentina. I work full time as a software consultant, but it is in the world of arts and crafts where I found a way to express myself; it is here where I am really at ease. I would quit my daily job if I could live on my handcraft, without any doubt!
2. Tell us about your shop - what made you open your shop and when did it happen? Also, what kind of items do you sell?
As soon as I heard about Etsy, almost 3 years ago, I a stated to dream about having a shop there. I used to think that when I had the time I would do it. Somehow, one day I thought, "Why do I have to wait? The perfect moment to open it may never arrive…", so I opened it in August, 2011, nearly two years ago.
I sell textile and fiber handmade accessories. I like to create useful and esthetic items.
3. What is the story behind your creations? What is your source of inspiration?
I love to work with wool and felt, but all textile and fiber materials call my attention and trigger my creativity. In fact, what most motivates me is the use of colors, I love them all!! Learning new techniques and using different materials are my excuse for playing with them.
I love colorful items, with texture and a bohemian look.
Some years ago I made a beaded bracelet for me; when a friend saw it, she encouraged me to make more and offer them to sell. I did so and I sold them immediately. This is how I started to sell women accessories.
4. Please pick one of your items that you feel is most representative for your shop and tell us what makes it most special?
I love this necklace because it is soft and rich; it looks original and different from other bold jewelry. It is made with felt and being a statement necklace, it is so comfortable. I also like its warm and earthy colors.
This necklace is the piece that better represents what I want to express with my work, in a way I feel that it represents me.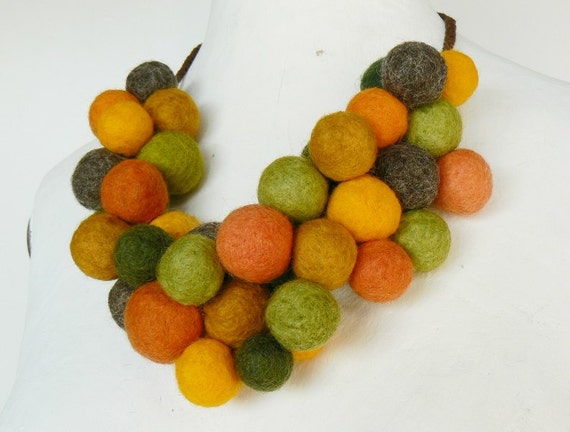 5. Please share a little wisdom on time management! How do you organize your time? How does a typical day selling on Etsy look like - time spent on orders, on teams activities, promoting on social media, etc?
As I mentioned, I have a daily job, and also a family, so it is not easy to organize. I do my best in order to make the most of any bit of free time that I have, for example, promoting my shop and team activities are tasks that I perform early in the morning and at lunch time. I process orders at night and my husband ships them the next day.
Any other activity, including creating items for my shop, is performed at night and during the week ends.
6. Speaking on Etsy teams, what do you look for in them? What makes you choose a particular one?
I think that the most important thing about a team is to share ideas and interests with other shop owners. So, what I look for when I join a team is that it has a "spirit" or a "concept" that I feel at ease with. These are the teams that I like the most.
I also participate in some teams that are more impersonal, teams dedicated to promote jewelry, for example. It is useful to be part of them because they give me the perspective of the ones who are in my same business.
I would like to have more time to participate more actively in teams activities; some of them are really fun and very helpful to achieve more shop visibility.
7. What's the best advice you receive when you first began selling? also, what advice would you give to new sellers - whether it's about promoting items, shipping, photography, communicating with clients or whatever else you feel that new sellers should be aware of?
Some time ago I logged on Etsy and they where updating the site: my shop looked exactly as it looked the day I opened it! I was so surprised to see how much it has changed! I think that the most valuable advice I´ve received was an article I read about SEO. It was written by a team-mate based on her experience and it was revealing for me, I had no idea of what SEO was! After that I spent several days reading other articles and changing every text on my shop.
I also read a lot about photography and changed completely the style of my shop. I am still working on that.
The advice I would give to a new seller is to be patient and to persevere; don't give up!. It will take some time to be part of the community and to learn the rules. Hard work and careful planning always pay off. This is something that I also repeat to myself.
8. What are your goals regarding your shop for the near future?
My goal for this year is to reach 50 sales. I am working hard on that, but it seems that time is never enough to work on my products or in my shop… nevertheless, I will be very happy just to have increased my sales from last year.
Slowly but steadily my shop is growing up.

Spread Some SPST Love And Visit Adriana's Shop Here :
PRESENTED TO YOU BY OUR LEADER:
| | |
| --- | --- |
| | Hello, I'm Andreia from Romania. There is a saying that says that every person has (at least) one vice. I would add that everybody must have at least one hobby and here you can see what my hobby is and what I love to do in my spare time. I love paper crafts and I enjoy making cards, invitations, tags, boxes and other paper related products. Everything is made by me at home with much attention and care. |