The SPS Team is an international team of artists, artisans and creators working together to promote their finest work!
Every week we are happy and proud to introduce a member of our outstanding team! They come from different backgrounds, countries, cultures and artistic horizons, but they all have one thing in common : they are driven, creative, dynamic, and dedicated to their Etsy business and to their team, SPST!
******************************************
Today we are pleased to introduce Sara, a passionate cook and shop owner from Washington, USA. ! She
open
ed her Etsy shop, called "The Sticky Wrapper
", in January 2011.
In Sara's shop you will find a mouthwatering selection of handmade caramels, dips and sauces. It's a paradise for all foodies and high-quality candy lovers!
Let's meet Sara and learn about her business adventure, her challenges as a food seller on Etsy and the role our SPS Team plays for her shop.

What inspires you for your candy or other yummy goods?


My family inspires me for my caramels. They all have a huge sweet tooth and store bought ones are just not as tasty.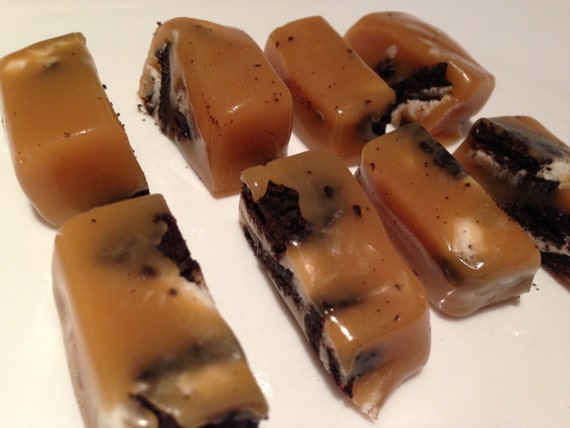 Cookies & Cream Caramels
How did your Etsy adventure begin?
My shop came to be due to my girlfriend going on and on about Etsy and how you can find the most amazing things. After perfecting my recipe and working up my nerve - I opened my shop. It was pretty nerve wrecking for me. :) I was putting myself out there in a whole new way.


What is the strangest or funniest thing you have ever created?


The strangest caramels have been created this year. I have made a coconut curry, soy sauce, tamarind, and a sesame. Although, I do try to make myself stand out with unique flavors. :)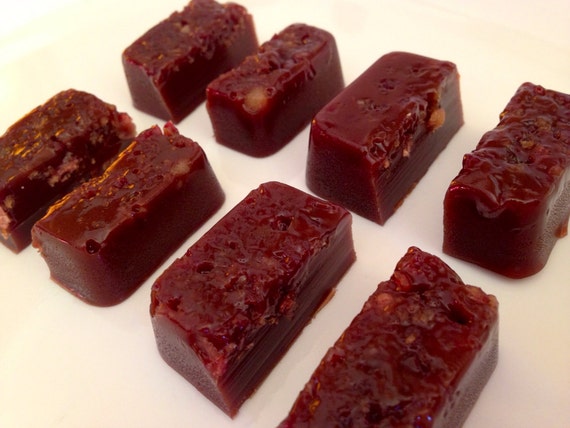 Chocolate Bacon Caramels
What are the specific challenges for a food seller on Etsy?
The biggest challenge is shipping and the summer heat. If you have a delicate product it can be demolished during shipping. If you have a product like caramels, melting in the heat is an issue.
Are you a buyer on Etsy as well? What do you usually like to buy?
I am a buyer on Etsy. I try to support my fellow food sellers.
I also love handmade soaps. I have recently become addicted to them.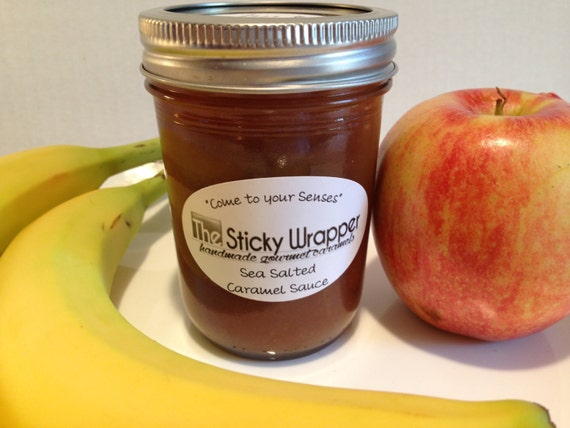 Gourmet Caramel Sauce
What is the one thing you would most like to change on Etsy to accommodate my business?
I don't really have anything specific I would change about Etsy. I do wish that it the manufacturing aspect had not been added.


Which is your favorite social media to use and recommend to other sellers for cross-promoting and why?


H. I would have said Facebook a few months ago, but since they have started limiting who sees your posts - I would say try any other. I currently prefer Google, Twitter, and instagram.
How does a team like SPS Team help you with your Etsy business?
I. I think that participating in the SPS Team helps a lot. I believe it gets my shop noticed more and I have gotten a few sales as well.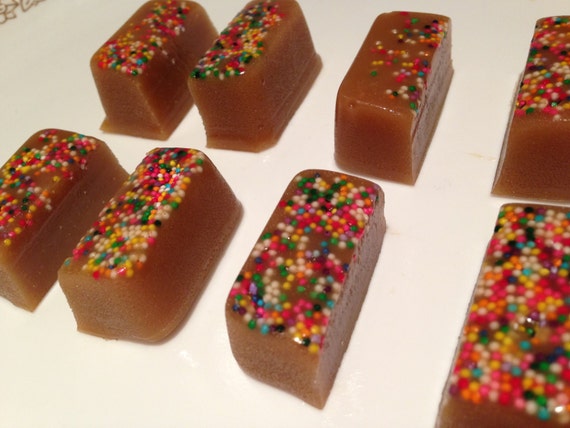 Birthday Cake Caramels
Thank you so much Sara for your generosity and your insight!
******************************************
If you are a member of the SPS Team and wish to be featured on our Team Blog in the series of articles 'Meet our Team Members' do not hesitate to contact our Leader,
Natalie
!
Read some other amazing stories from our Team Members :
Vintage Shops:
- Ellen from The Chilly Dog
PRESENTED TO YOU BY OUR LEADER:
| | |
| --- | --- |
| | My name is Natalie. I am a French-Canadian gal, but I live in South Korea. My passion is called "Hanji" : sumptuous Korean paper made of mulberry pulp. Hanji has been used for a thousand years in Korea to create decorative or ceremonial objects. For me, it is essential to offer useful and practical objects, that can enjoyed on a daily basis. Tissue cases, pen holders, jewelry, fridge magnets, hair accessories: let the beauty and unique character of Hanji paper make our everyday life objects irresistible! |