The SPS Team is an international team of artists, artisans and creators working together to promote their finest work!
Every week we are happy and proud to introduce a member of our outstanding team! They come from different backgrounds, countries, cultures and artistic horizons, but they all have one thing in common : they are driven, creative, dynamic, and dedicated to their Etsy business and to their team, SPST!
******************************************
Today we are pleased to introduce Dorothy, a dynamic craftswoman and newest member of the SPS Leadership Team
. Dorothy open
ed her Etsy shop, called "Zzzonkowl
", in January 2013.
In Dorothy's shop you will find a fantastic selection of handmade fabric-covered buttons, as well as unique jewelry! And, yes, you will find very many irresistible owls!
Let's meet Dorothy and learn about her Etsy journey, her challenges and the joy she gets from a certain "ka-ching" sound!

How did your Etsy adventure begin?
Around Christmas time I was browsing Etsy for some possible gifts. I came across these interchangeable magnetic necklaces that were really neat, but really expensive. I did some research online and through trial and error I made my own version. I made at least a dozen different fabric-covered buttons to go with each necklace! I also sort of personalized each one by adding a charm or two that fit each personality.
They were a hit with my family and friends. I loved fabric-covered buttons so much that I thought I could open my own Etsy shop and sell my interchangeable magnetic necklaces for a LOT cheaper than what I was seeing.
To be honest, I'm not sure what happened to that plan. I just started making single necklaces instead! And from there I experimented with other jewelry stuff...some things I could do; some things I just didn't have the patience for!
Now I don't know about you, but one of my most favorite sounds in the world is Etsy's "Ka-Ching!" when you get a sale.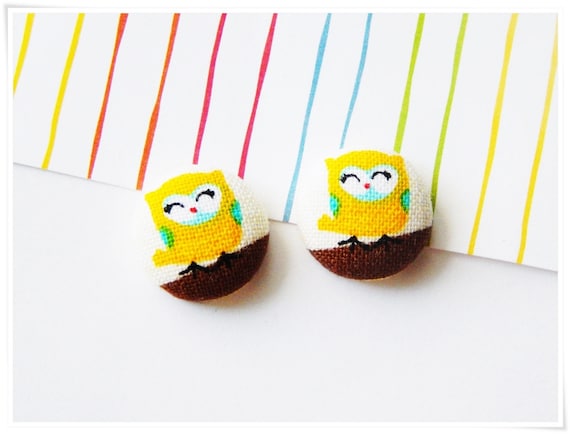 Is your Etsy shop your full-time job? or a hobby? How do you manage your time between Etsy and your everyday life?
I have a sleeping disorder called narcolepsy, so I don't work outside of my home. I do some transcription work online, but my husband is by far the main supporter of our family of 3. (We have a 9 year-old son.) Truth is I haven't ever really had a hobby until now. I just slept whenever I had any free time--even in high school. I lead a dull, mundane life (which I am quite content with though!) so discovering how much I love doing this Etsy stuff brought some excitement into my life!
I have always felt like a failure because I wasn't able to complete college and become an English teacher, but making a sale on Etsy gives me such a great sense of accomplishment and success!
I still sleep all the time, but my life has definitely changed since I discovered my passion for fabric-covered buttons and charms!
What is your favorite item in your shop and why?
Not to sound conceited but it's hard to pick just one. I feel a connection with each item, for different reasons.
I really love the owl & moon earrings I made,
because they are unique and different. I love that I used my own creativity to come up with the idea!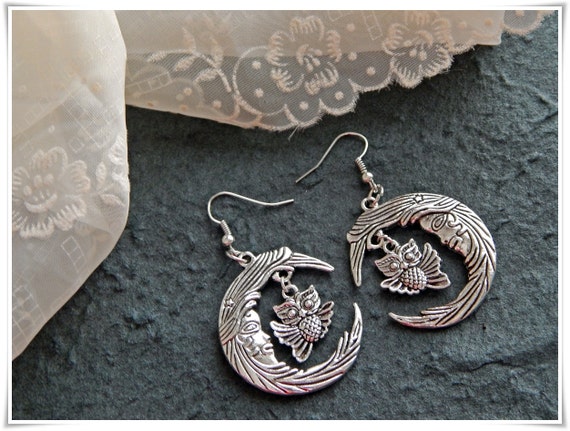 I also love this orange sweater fabric necklace, b
ecause I'm a huge vintage buff--true vintage, not fake vintage ;)--so I love that it's made from a vintage fabric :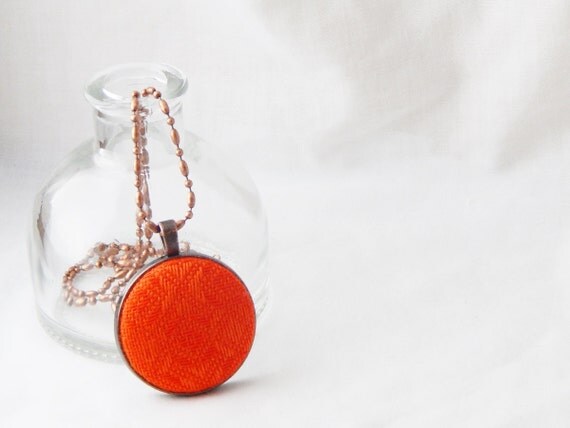 These are only a few examples that show you how much I love each item I make!
What does the SPST Team mean to you? How does it help you run your business?
Strategic Promotion for Success team is a wonderful Etsy team. I've joined many teams and left a few, but I plan on sticking around with SPST. I'm so grateful that others take time out of their lives to help one another promote our shops. Basically, if you haven't joined an Etsy team yet, you're missing out on some fun games and some great online friends :)
Are you a buyer on Etsy as well? What do you usually look to buy?
Oh, yes. I'm an Etsy buyer too! Etsy is AMAZING. You can browse for hours and not get bored. I did a lot of shopping on Etsy for my wedding a few years ago. At this point though, since I'm trying to earn money not spend money, I don't buy as frequently from Etsy. The main items I buy are custom orders for fabrics--there are some really great sellers that will sell me less than a quarter yard since I only need small pieces for my buttons!
What is your biggest challenge or frustration as an Etsy shop owner?
There are a couple of challenges I face with my Etsy shop. One is the fees--$0.20 might not seem like a lot, but it adds up fast. Plus the percentage they take from the sale adds up too.
Which leads to another difficulty I have--pricing. On instinct I want to price my items low--people like good deals and my rationalization is that I will make more sales with lower prices. But I've learned that's not true at all...you need to show that your item has value. I still always have a hard time pricing things...even though I've gotten more sales when my items were priced a bit higher. Maybe it's self-doubt or insecurity or something! I know I'm pleased with the things I make, but I guess I could be afraid it's not good enough. But I think as I continue to make sales, my confidence will improve.
Which is your favorite social media to use and recommend to other sellers for cross-promoting?
At first it was Facebook. I got some local sales this way; which is nice too! And then I realized I had to join Twitter! There are some teams that will re-tweet your tweets, so that's been helpful. The best social media platform I've used though is my blog

ZzzonkOwl.blogspot.com.
It's been so fun on top of helping others and gaining exposure to my Etsy shop :)

You can also follow Dorothy on her blog, as well as different social media platforms :

Blog : zzzonkowl.blogspot.com
******************************************
If you are a member of the SPS Team and wish to be featured on our Team Blog in the series of articles 'Meet our Team Members' do not hesitate to contact our Leader,
Natalie
!
Read some other amazing stories from our Team Members :
Vintage Shops:
- Ellen from The Chilly Dog
PRESENTED TO YOU BY OUR LEADER:
| | |
| --- | --- |
| | My name is Natalie. I am a French-Canadian gal, but I live in South Korea. My passion is called "Hanji" : sumptuous Korean paper made of mulberry pulp. Hanji has been used for a thousand years in Korea to create decorative or ceremonial objects. For me, it is essential to offer useful and practical objects, that can enjoyed on a daily basis. Tissue cases, pen holders, jewelry, fridge magnets, hair accessories: let the beauty and unique character of Hanji paper make our everyday life objects irresistible! |