Hello! My name is Beth and the name of my shop is Pretty Byrd Designs. I make handcrafted cards, journals, tags and decorative boxes.
I've always had a love of paper and playing around with color and texture. Not considering myself an artist, I nevertheless dabbled in painting and drawing and calligraphy for a bit. One day I signed up for a card-making class at our local library -- I was hooked.
I began making cards for my own use, to send to family and friends. But my love of creating took over and I found myself with more cards than I could possibly use. I began selling them to friends, at local shops and at craft shows. I opened my etsy shop one year ago.
It's rare for me to know ahead of time what my finished card will look like. Most of the time I let the paper, ribbon, ink and embellishments guide me. I'll start off with a basic theme or concept but it is only after I sit down and start sorting through different papers, rubber stamps, ribbon and so forth that my card evolves. Sometimes it happens right away. Other times it takes hours.
Here's an example of what I might start with:
I'll play around with ideas for a layout:
Eventually I might end up with something like this:
I tend to focus on flowers, botanical images and nature.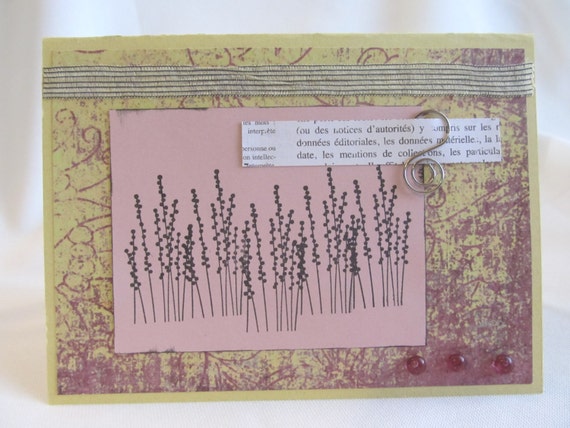 Vintage style items have always caught my eye. The popularity of shabby chic is a trend I have really embraced. I love working with lace, burlap, and small decorative embellishments.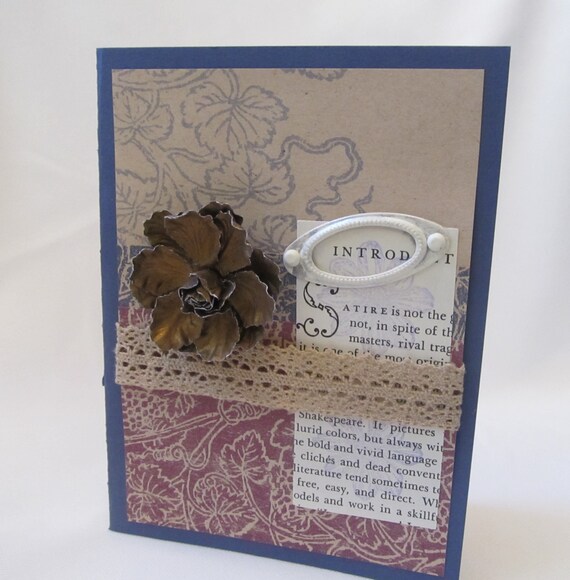 My creativity has taken me in new directions also and I began to make mini journals and decorative boxes:
There are so many sources for inspiration – nature, magazines, books, a scrap of paper or a piece of fabric. Walking through the craft shops is always exciting … but can be expensive!!
I am thankful for my customers and take pride in offering them a unique and handcrafted item. It is my hope that they enjoy their purchase and take pleasure in having something made with much thoughtfulness.
Meet our Guest Blogger Beth from Pretty Byrd Designs :

Pretty Byrd Designs was opened in 2013 as a way to offer my handcrafted cards and paper goods. I am a secretary by day, but my true passion is in designing and creating paper crafts. I welcome you to visit my shop and browse around. It would be my pleasure to help you with a card or gift for any occasion.