The SPS Team is an international team of artists, artisans and creators working together to promote their finest work!
Every week we are happy and proud to introduce a member of our outstanding team! They come from different backgrounds, countries, cultures and artistic horizons, but they all have one thing in common : they are driven, creative, dynamic, and dedicated to their Etsy business and to their team, SPST!
******************************************
Today we are pleased to introduce Karen, an artisan
jeweller and experienced shop owner who has a passion for gemstones and African ethnic jewelry
! Karen opened her Etsy shop, called "Catching Waves
", in November 2009.
In Karen's shop you will find a very wide and beautiful collection of handmade jewelry, such as necklaces, bracelets and earrings, as well as some inspiring art pieces.
Let's meet Karen and learn about her Etsy journey, her challenges and joys and her role as a member of the Leadership Team of SPS Team!
Why do you sell on Etsy?
Selling on Etsy is still more of a self-supporting hobby than a job at this point, partly because I don't generate that much profit from my Etsy shop. I have other work I do that pays the bills but making jewelry and sharing it with others is a passion. Of course, I would love it if my shop could be a more significant source of income.
How did your Etsy adventure begin?
I think the impulse to open a shop came from my experience making a gift for my grand-niece—a treasure box hand painted with ocean waves and inside, a little fantasy world with miniature mermaids (purchased on Etsy) and miniature furniture I made made from driftwood and shells--and a "coral reef" made from dried seaweed I painted and attached little fish to. I got so caught up in the process of crafting this gift and enjoyed it so much that when it was done, I didn't want to stop. I realized that making things gives me great joy and that I need the inspiration of making for others in order to create. I started selling on Etsy in order to have that outlet and inspiration. My first sale was to a good friend. The piece I was proudest of in that first order was an antique, very delicate carved bone stag for which I needle-felted a setting with soft green forest colors.
What inspires you for your designs?
Every piece starts with something I love—beads with beautiful colors or a charming, hand-carved Balinese pendant—and the desire to integrate that component into a whole that will celebrate it. I love colors and textures and I want them to come together just right each time so that the whole piece "sings."
You are a member of the Leadership team on the SPS Team. How do you see your role as a Leader?
To be honest, I see my current role as that of a support for the "real leaders," the ones who carry most of the work in organizing events and maintaining communication with team members. This team is one of the hardest working, most active and dedicated I've come across. It deserves support. I like to feel I'm contributing—and I especially love brainstorming and trying to come up with ideas—but I've been kind of off and on as a leader. I think I need to find a focus. I hope I can do more in the future.
What is the strangest or funniest thing you have ever created?
I've made quite a few needle-felted octopi and then felted them onto things—felted purses, felted cuffs, etc. I think the funniest might have been a rust-orange octopus perched on the top of a green wool beanie, with the long tentacles wrapped around the hat. It was pretty fun.
Are you a buyer on Etsy as well? What do you usually look to buy?
Oh yes! I spend all my profits on Etsy—mostly on supplies (beads, chain, findings, etc.) for jewelry making but also on gifts for birthdays, Christmas, weddings, etc. This is undoubtedly a key reason I don't make money from my shop! Everyone in my family has received hand crafted gifts from Etsy artisans—hand-knit scarves, soaps, jewelry, art, and a gorgeous set of hand-forged bells. Right now, I'm shopping for a mother of the bride dress as both my kids are getting married next year.
What is your biggest challenge or difficulty as an Etsy shop owner?
Being seen! In general, I have a high ratio of likes to views, at least for many pieces--but nowhere near as many views as I'd like and think you need to really be successful. I always feel like there's so much more I should be doing to promote my shop, from buying a better camera to making more use of social media. Pricing is hard too but I think visibility for a jewelry shop is number one.
Which is your favorite social media to use and recommend to other sellers for cross-promoting and why?
I have a Facebook page for my shop but it hasn't gotten many views and I don't like how "pushy" Facebook is about advertising. I like Pinterest and should probably use it more. I don't tweet—yet. Maybe when I stop working at my other job I'll be able to do more promoting!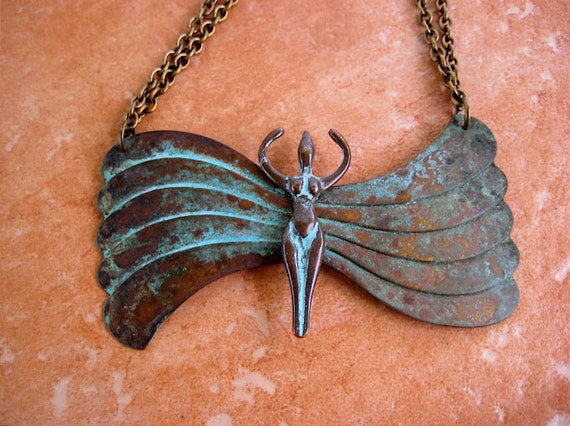 Thank you Karen for your insight and your generosity !
******************************************
If you are a member of the SPS Team and wish to be featured on our Team Blog in the series of articles 'Meet our Team Members' do not hesitate to contact our Leader,
Natalie
!
Read some other amazing stories from our Team Members :
Vintage Shops:
Handmade Shops:
- Ellen from The Chilly Dog
PRESENTED TO YOU BY OUR LEADER:
| | |
| --- | --- |
| | My name is Natalie. I am a French-Canadian gal, but I live in South Korea. My passion is called "Hanji" : sumptuous Korean paper made of mulberry pulp. Hanji has been used for a thousand years in Korea to create decorative or ceremonial objects. For me, it is essential to offer useful and practical objects, that can enjoyed on a daily basis. Tissue cases, pen holders, jewelry, fridge magnets, hair accessories: let the beauty and unique character of Hanji paper make our everyday life objects irresistible! |